Beyond Rhetoric: Does It Get Better?
October 04, 2013

News Type:
Director's Corner
Everything changed when the attention of the media was captured by several highly visible youth suicides that seemed to be directly linked to homophobic bullying. Suddenly the public was aware of LGBT youth and bullying, as well as the implications of bullying for mental health and suicide. This has been a major cultural shift from silence (arguably denial) to dramatic public, media, and celebrity attention. The good news is that people are finally paying attention to the pervasive homophobia that has been undermining the well-being of LGBT youth for generations. The dilemma with such public attention is that it can provide simplistic frames of understanding of complex challenges.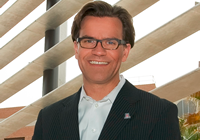 One simplification, and a dangerous one, is the idea that bullying can cause suicide. Suicide and self-harm are complex problems. Nearly all cases in which a young person thinks about or engages in suicidal behavior are the results of the complex interactions of multiple risk factors. The American Foundation for Suicide Prevention (AFSP) points out that the term "bullycide" and sensational media coverage that suggests an oversimplified cause-and-effect relationship between bullying and suicide may undermine the ability of bullied youth to imagine positive resolutions.
Another simplification is that "it gets better." A single well-intentioned video with this message went viral and became a social media phenomenon, inspiring entertainment stars, politicians, and professional sports teams to create video messages of hope for LGBT youth.
With support from the AFSP, I investigated the question of whether it actually gets better. I found that suicide risk for LGBT youth seems to be highest during the teenage years. But it doesn't just "get better." Many youth have criticized this message. The youth-driven Make It Better Project presents an alternative to this view. LGBT teens don't want to wait until adulthood, muddling through, assuming that the teenage years are simply, by definition, homophobic. The teen years are a time of heightened concerns about conformity, especially related to gender expression and sexuality. But these developmental changes are why we need strategies to promote discussion of issues related to gender and sexuality – as well as mental health, depression and suicide – in ways that are authentic and promote healthy development. Everyone wants to prevent bullying and suicide. We need less rhetoric and fewer catchy phrases, and more real conversations about the reality of teens' lives.
Resources
Suicide and Bullying Issue Brief (SPRC)
Bullying and Suicide (American Foundation for Suicide Prevention)